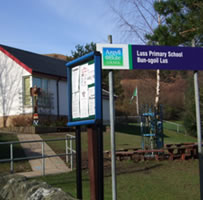 Dear Parents and Carers,
The staff and I are very pleased to welcome you and your child(ren) to Luss Primary School.
We are confident that your child(ren), and your family, will be very happy here. Throughout their time with us we will help your child(ren) to develop their social, emotional and physical skills as well as achieve academic success. By doing so, we prepare children for a healthy and successful future in the real world. Our expectation is that we all – parents, staff and children – work together to achieve this aim.
If anything is unclear or you would like to know more please feel free to speak to Gemma Houston (Acting Head Teacher) in the mornings when bringing your child(ren) to school or to email your query to
The school has served, and continues to serve, the children and the families of the local community. We welcome you and your child(ren) to our dynamic and ever evolving 'Luss family', with the constant desire for all members of our community to aspire to achieve their best in their chosen pursuit of happiness.
Yours sincerely,
Gemma Houston